How to do a reverse image search using Google, Bing & Yandex on your computer. A reverse image search is the ability to "lookup", or find an image (picture), on the internet from the image itself. Normally when you're looking for pictures on the Internet, you'd start by typing in a word or phrase related to that search, such as "pictures of Blackpool beach, "New York images", "pictures of rabbits" etc.
But if you already have the image (the picture), you can actually use that image to search for information about it, such as Who is it? What is it? Where is it?
In this guide, we're going to look at how to do a reverse image search from web pages, from emails, and from pictures that you've already got on your PC.
Reverse Image Search From An Image On Your Computer.
When you're looking for anything on the Internet, you'll be using a search engine, the best known of which would be Google. But there are other search engines out there. Bing is Microsoft's search engine (primarily used if you use the Edge browser) and there is also a Russian version of Google called Yandex.
When you've already got an image on your computer, you can use all three search engines to try to find as much information about it as possible.
---
How To Do A Reverse Image Search On Google.
Open your browser (go onto the Internet) and go to Google Images.
On the Google Images page, click the "Search by image" icon. It's the camera icon.
---
The Search By Image box will open.
This is where you can upload the picture to Google.
Click the UPLOAD AN IMAGE tab and then click the CHOOSE FILE button.
---
Now you need to find your picture.
Navigate to the image, select it and then click the OPEN button.
For more about navigating your computer click How To Use Windows File Explorer
---
Google Searches The Internet For Your Image.
Once the picture has been uploaded, Google will scan it and then look for either an exact match or for something similar. Now it has to be said that the way in which a computer "looks at" an image is not always the same way we would, and so you can get some very odd results, but by and large you'll find it works pretty well.
Google will display the results of the search much the same way as if you'd done a text-based search.
To find more information about your image you'd simply scroll down the page of results and click on any of the websites that have your picture.
If Google doesn't find anything for your image, or if don't find the information that you were hoping to, then you can try using the other two search engines I mentioned earlier, Bing and Yandex.
The process is very similar and just as easy and might well give you what you're looking for.
---
Reverse Image Search On Bing
To search Bing with your image, make your way to the Bing Images pages
Once you're on Bing Images, click the "Search using an image icon".
It looks like a camera (kinda, maybe).
---
When you click the "camera" icon the Visual Search window will open.
To upload your picture to Bing, click BROWSE.
---
Now you need to navigate to the image that you want Bing to search for, select it and click the OPEN button.
Bing Visual Search will display its results and just like with Google Images, most of the time they're very good.
The larger image on the left is the one you've uploaded and the smaller images on the right are the results.
To view one of the results, simply click directly on it.
But to visit the website or web page that the image is taken from, click the website link beneath the image.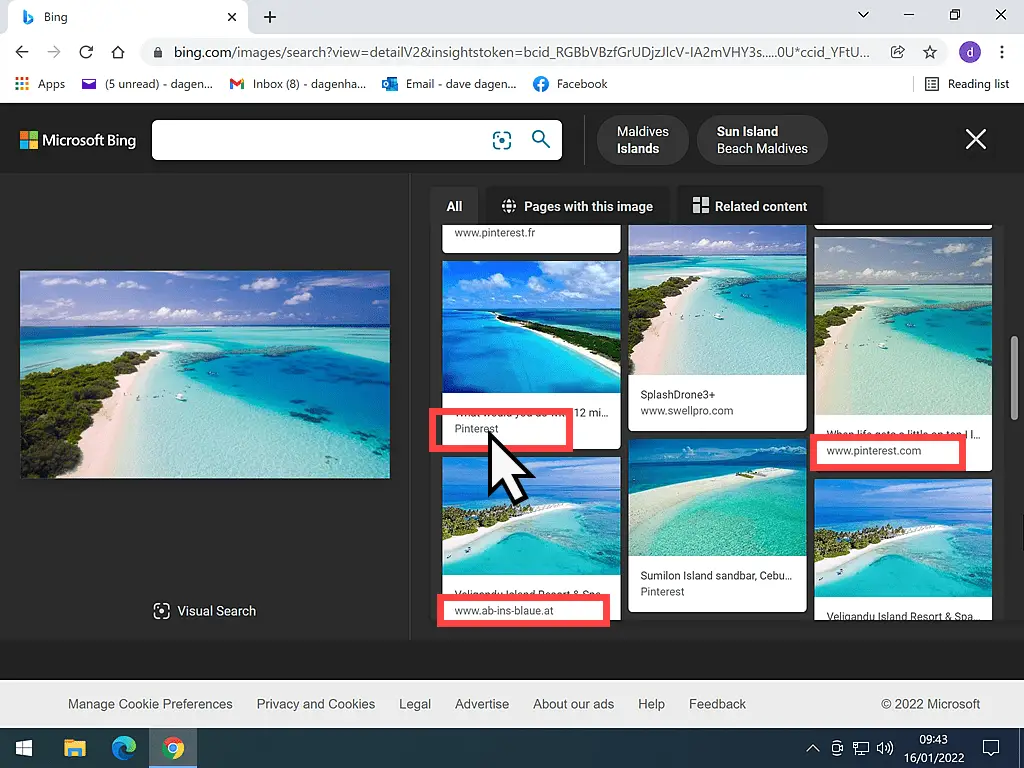 ---
Reverse Image Search On Yandex.
Yandex is a huge search engine. It's similar to Google but it is based in Russia. However, if you're really struggling to find any information out about your picture, then it is worth a try. Although I can't attest to this personally (I don't do many reverse image searches), whilst researching this article it appears that Yandex is probably the best search engine to use, particularly when it comes to facial recognition.
To search using an image on Yandex, open your browser and head to
When you get there, click the Visual Search icon.
The Visual Search window will open, click the SELECT FILE button.
Then navigate to your image and upload it to Yandex.
---
Yandex will display its results similarly to how Google does, except, err, it's in Russian.
Did I mention that Yandex is based in Russia?
Whilst this may be perfectly fine for yourself, for me it is a bit of an issue.
However, all is not lost.
Right-click somewhere on the page, but not touching anything, just on a bit of white space.
On the menu that opens, left-click TRANSLATE TO ENGLISH, or whatever your language is.
---
Images In Emails.
Sometimes the image that you want to investigate is contained within an email. It may be as an attachment or inserted directly into the message body. Either way, it's a simple matter to do a reverse image search on it.
Knowing how to reverse image search from emails is especially useful because of the "lonely hearts" scams that are going around. Often scammers will use a picture of a model or actor to mask their real identity.
Quick Note.
There are several ways in which to run a reverse image search on a picture that is in an email, but they are very much dependant on the actual browser that you're using (Chrome, Edge, Firefox, Opera, Brave etc). They will have either different options or possibly, no option at all.
So the easiest way to reverse search a picture in an email is simply to download it to your computer. Then you can upload it to Google Images, Bing Images and Yandex Images as above.
The way in which to download the picture will vary depending on your email service, but generally, if you hover your mouse pointer over the image, you'll see a downward facing arrow appear, that's the download button (or icon).
Click the download button and then save the picture on your computer.
If you don't see an arrow, then usually you can right-click on the image and then left click SAVE IMAGE AS. Again save the image onto your computer.
---
Images On Webpages.
Sometimes you might drop onto a web page that has an image but very little information about that image. If you want to find out more about it, then you can still do a reverse image search, even though the picture is on a webpage.
Similarly to researching a picture in an email, there are several ways to accomplish it, but they're dependant on your browser. So the best way is to copy and paste the image URL (or web address) into Google, Bing and/or Yandex.
To copy the image URL, right-click on the picture.
On the menu that opens, left-click either COPY IMAGE ADDRESS or COPY IMAGE LINK, depending on your browser.
---
Head to Google Images and click the Camera icon.
Make sure you're on the PASTE IMAGE URL tab
Right-click in the box
From the menu, left-click PASTE
Finally, click the SEARCH BY IMAGE button.
---
The process is almost identical in Bing.
Head to Bing Images, click the camera icon, then click the PASTE IMAGE OR URL button.
Then simply paste the URL you just copied into the box and Bing will do the rest.
---
And so too on Yandex.
Head to the Yandex Images page, click the camera icon and then paste the URL of the image into the box and click the SEARCH button.
---
Conclusion.
Using reverse image searches you can identify plants and animals from pictures you've taken and find locations and landmarks from images. It really is surprising how well this technology works. And then there's the facial recognition. Google, Bing, and Yandex are getting increasingly good at pinpointing human faces. Just a little scary if you ask me.
More Guides From At Home Computer
Getting It Done, One Guide At A Time