How to remove the DRM that Windows Media Player added to your WMA files.
Are you having problems playing or opening old WMA (Windows Media Audio) files? Are they files from CDs that you ripped sometime ago using Windows Media Player?
It could be that when you ripped these files, you inadvertently added DRM copy protection.
The copy protection will prevent the files from being played, burned to CD, or converted to another audio format.
And it's darned annoying.
Error Messages Caused By DRM.
Error messages from different programs that you might encounter when trying to play copy-protected WMA files.
Groove Music App
Can't play. Try playing this with a different player. This application doesn't have content usage rights.
0xc00d7186
Windows Media Player
A Windows Media Digital Rights Management (DRM) component encountered a problem. Contact Microsoft Product Support.
VLC Media Player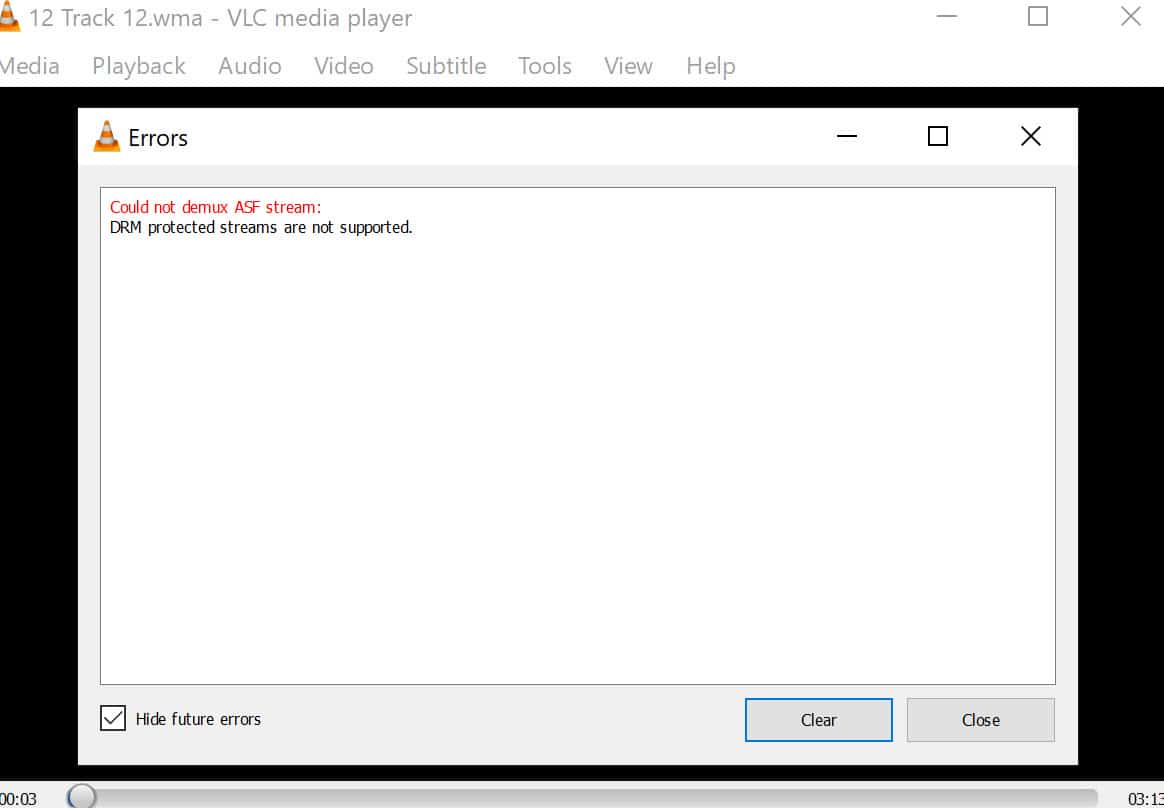 VLC media player can't open it either.
Could not demux ASF stream:
DRM protected streams are not supported.
And you'll get the same or similar error messages if you try to convert the WMA files to MP3 or any other format. Similarly, if you're trying to burn the files to CD.
You just won't be able to do anything with the WMA files until you remove the DRM copy protection.
---
Download The Microsoft DRM Removal Tool.
The Digital Rights Update Tool removes the DRM copy protection that you added when ripping CDs in the using Windows Media Player.
After you've used this program, you'll be able to play your music files on any computer or device without getting the dreaded "cannot play the file" message.
The Digital Rights Update Tool is produced by Microsoft and is completely free and safe to use. You simply download it from the Microsoft Store.
To be clear, this tool only works on WMA audio files and it won't remove third party DRM. It only removes the copy protection that Windows Media Player added when you originally ripped the CDs back in the day.
To get the Digital Rights Update Tool, either click the Windows Store icon on your Taskbar.
---
Or click the START button and then type –
store
Click on MICROSOFT STORE at the top of the list.
---
When the Store loads up, click the search box in the top right corner.
---
In the search box, type –
digital rights update tool
When the app appears, left-click on it.
---
If you'd like to sign in with a Microsoft account, you can.
But you don't have to.
If you'd rather not, click the NO THANKS button.
---
The Digital Rights Update Tool will download and install onto your computer.
Once it's ready, click the LAUNCH button and we can begin removing the DRM from your WMA files.
---
How To Remove DRM From WMA Audio Files.
Now that we've got the tool installed it's time to get to work removing the copy protection (DRM) from your audio files.
Left-click the folder icon (button) in the Digital Rights Update Tool.
---
Navigate to the folder where your copy-protected WMA files are stored.
But don't open the folder.
Instead, left-click once on the folder to select it and then click the SELECT FOLDER button.
When you ripped the CDs with Windows Media Player, it created folders for each album (CD). And most likely these folders will be in your Music Folder.
The Digital Rights Update Tool works on the entire folder, not individual files inside it.
Select the folder and then click the SELECT FOLDER button.
---
The tool will load all the WMA files that have DRM controls attached to them.
It'll ignore any other files inside the folder.
To remove the DRM from your audio files, click the PLAY button.
---
As the files are fed through the tool, you can check their progress.
It may take some time depending on how many audio files you have and the speed of your computer.
---
When it's done, it's done.
Either close the Digital Rights Update Tool or load another folder and continue removing DRM from your WMA audio files.
Generally, I'd say do one album (folder) at a time. That way it won't take too long to complete the copy protection removal.
Loading several folders (albums) at a time will tie up your computer for quite a while.
---
When DRM Removal Is Completed.
The Digital Rights Update Tool removes the copy protection from your WMA audio files, but it also creates a backup of the original file.
Which means that you end up with two files for each audio file (song).
You can delete the backup files.
But make sure that you test all the audio files are working first.
If you're only removing DRM from one album, then playing each track to see if it works isn't much of a hardship.
If you've got several albums to get through, then you're in for a long weekend.
---
How To Quickly Delete The Backup Files.
To delete the backup files quickly, type –
backup
Into the folder search box. Then click the search arrow.
Windows will show you all the backup audio files.
---
Left-click once on one of them to select it, any one will do, it doesn't matter which one.
Then press CTRL and the letter A on your keyboard.
All the backup files will be selected.
---
With all the backups selected, right-click on one of them, again it doesn't matter which one.
On the menu that opens, left-click DELETE.
Job done.
You should now be able to play, copy and paste, transfer, burn, convert, or whatever you want to do with your music files.
---
Removing DRM From WMA Audio – Summary.
Back in the day when we were all copying our CD collections to our computers, the program that was most often used was Windows Media Player.
Unfortunately, when you used Media Player for the first time, you'd have to choose whether or not to add copy protection.
It seems obvious now that given the choice, you should choose no, but many of us just didn't understand the implications of choosing yes.
And secondly, the wording of the copy protection notice could have been clearer. As I remember it, the notice seemed to suggest that I was protecting my files from being damaged in some way. From becoming corrupted in some way or being deleted.
I'm sure a lot of people out there did exactly as I did for similar reasons.
Finally, with the Digital Rights Update Tool, Microsoft has given everyone the chance to regain control of their own audio files.
More Guides From At Home Computer
Getting It Done, One Guide At A Time