Back in the day, when we were all busy ripping our CD collections, often the program we used would be Windows Media Player. It wasn't great, but it worked and was already installed on our machines.
The problem is that Media Player's default setting was to rip CDs in the WMA (Windows Media Audio) format.
In this guide, we're going to put that right and convert WMA to the more useful MP3 format.
To convert WMA to MP3.
In order to make the conversion from WMA to MP3, you're going to need to use an application that can do the job.
Whilst there are many such programs around that you could use, the program of choice for me is VLC Media Player.
VLC has been around for many years. It's free to use (open source), but you need to be careful where you download it from.
Make sure you download from the VLC website, not from one of those file repository sites. They just load the install process with unwanted software.
You can download VLC safely here VLC Download Page.
Or go to www.videolan.org
On the VLC website, click the DOWNLOAD button.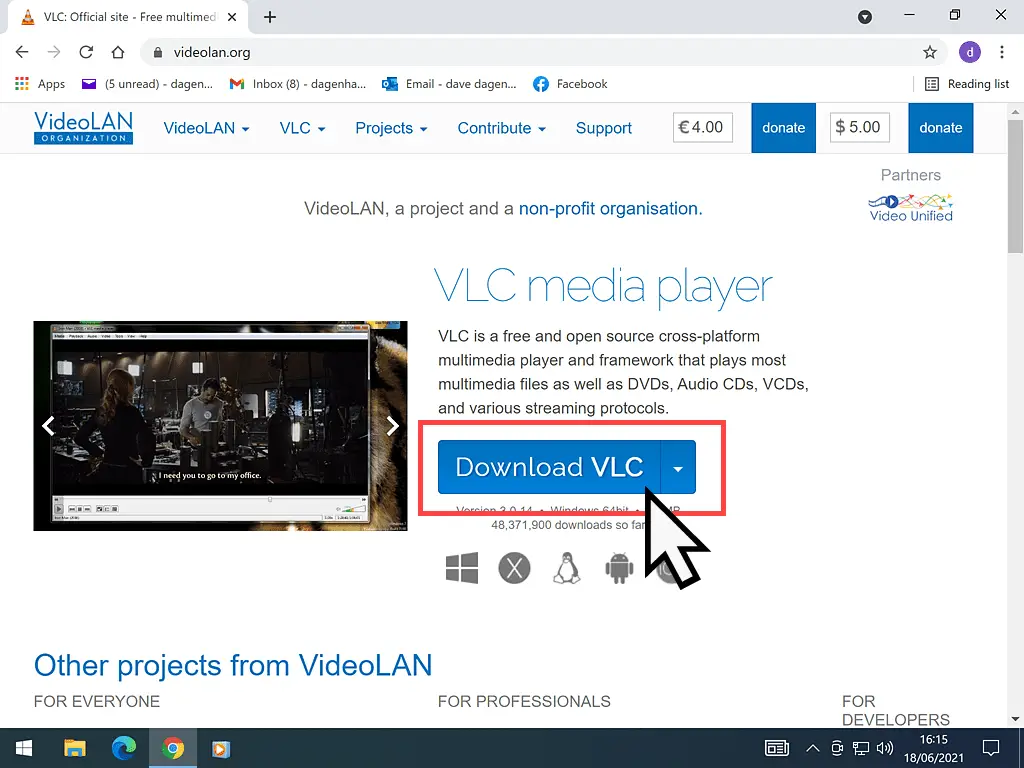 ---
Be careful here.
This is the VLC download page.
Nothing will seem to be happening, and you'll think that you need to click that big green button.
Don't.
The download is on a timer. It's delayed for around 5 seconds. Just wait, it will start of its own accord.
The green button (or whatever is there when you visit), is there to tempt you into installing another program.
Exactly what that program will be will vary, but don't click it. You didn't come here for whatever is under the button.
Just wait for the download to kick in.
---
Once VLC has finished downloading, launch the installer, either from within your browser or from wherever you downloaded it to.
---
---
---
How to convert WMA to MP3
Now you've got VLC installed, it's time to start converting your WMA files (songs) into MP3 files.
Left-click the MEDIA button in the top left-hand corner of VLC Media Player.
Then, on the menu that opens, left-click CONVERT/SAVE.
---
This is where you can tell VLC which files you want to convert from WMA to MP3.
Click the ADD button.
---
Next you'll need to navigate to the WMA files that you want to be converted.
In this example, my files are on my Desktop, so I'd click Desktop in the left-hand panel.
If your files are in your Music folder, then you'd click Music in the left-hand panel.
---
Open the folder where your music tracks are located.
Then select all the tracks you want to convert and then click the OPEN button.
Most likely, all the tracks in the folder are WMA files, so you'd probably want to convert them all.
A quick way of selecting all the files is to press CTRL and the letter A on your keyboard.
For more information about selecting multiple files click How to Select More Than 1 File
---
The selected WMA files (tracks) will be added to the list.
To add files from a second folder, click the ADD button again.
Once you've got all the files added to the list, click the CONVERT/SAVE button.
You don't need to click the drop-down arrow, just click straight onto the button.
Although you can just keep adding folders to VLC to convert doesn't mean you should. I'd suggest that you do one folder (album) at a time.
---
WMA to MP3 conversion settings in VLC.
On the Convert Page, click the drop-down arrow in the Profile box.
---
Scroll through the menu that opens and select AUDIO – MP3.
---
Don't skip this step.
Next, you'll need to edit the current profile.
Left-click the Spanner icon.
---
Click the AUDIO CODEC tab.
---
On the AUDIO CODEC tab, click the drop-down arrow beside the Codec box.
Scroll through and select MP3.
---
Setting the bitrate of the conversion.
The next thing to consider is the bitrate. The bitrate essentially controls the sound quality.
Higher bitrates give a better sound but produce larger files. It's generally accepted that WMA produces a better quality sound to MP3 at similar bitrates.
With this in mind, I'd be tempted to set the bitrate higher for the conversion.
By default, VLC will have a bitrate of 128 kb/s.
And while this will be fine, as I said, I'd set it higher.
Go for 192 kb/s or above.
I don't want to give the idea that 128 kb/s isn't going to be any good. In fact, you'd probably be hard-pressed to tell the difference.
Click the SAVE button when you're done.
---
Start the conversion.
Click the START button to begin converting your WMA files into MP3 files.
---
As each WMA file (music track) is converted to MP3 by VLC, you can see a progress bar at the bottom of the screen.
Depending on how many files you're converting and the speed of your computer, this might take a while.
---
What to do after converting files.
The one thing that's missing from VLC, when converting WMA files to MP3, is a way of separating them.
Ideally, you'd be able to output the converted files into a new folder to keep them separate from the originals.
Unfortunately, when you're converting multiple files, VLC doesn't allow you to choose a different folder to store your newly converted MP3 files in.
Which means they'll go into the same folder as your WMA files.
Essentially you're going to be doubling up, having the same track in the WMA format and as MP3.
Not ideal.
I'd recommend that you separate them. It simply saves a lot of confusion later on.
There are two different things you can do.
Firstly, you could keep both sets of files, the WMA & Mp3, but in different folders. If you've got the storage space available, this is what I'd do.
Secondly, since these are exactly the same songs (just in different formats), you could delete the WMA files from your computer.
Whichever you decide to do, here's how to go about it.
---
With the folder that has your WMA and MP3 files inside it open, you can get Windows to find all the WMA files for us. Type –
wma
Into the search box in the top right-hand corner of the folder window.
Then click the FIND button (the arrow).
Windows will display all the WMA files in that folder. It won't show you the MP3 files, just the WMA versions.
---
Single left-click on one of them, anyone, it doesn't matter which.
Then press CTRL and the letter A on your keyboard.
All the WMA files will be selected.
But only the WMA files, the MP3 versions are unaffected.
---
With all the WMA files selected, right-click on one of them, again it doesn't matter which one.
The options menu will open.
If you're going to keep them, left click CUT on the menu.
If you're getting rid of them, left click DELETE on the menu.
If you are deleting them, you're done. All the WMA files will be deleted and you'll be left with only the MP3 conversions.
---
But if you intend to keep your original WMA files and you clicked CUT, you now need to create a folder to put them into.
Left-click the BACK button in the top left corner of the screen.
---
Back in the main folder screen, right-click to open the options menu.
Move your pointer onto the word NEW.
On the second menu that opens, left-click FOLDER.
Or press CTRL + Shift + N on your keyboard.
---
Give the folder a descriptive name, something like WMA Files, or anything you like.
---
Finally, right-click on the new folder.
Then on the menu that opens, left-click PASTE.
All the WMA files will be moved into the new WMA folder, leaving you with just the MP3 files in the parent folder.
Converting WMA To MP3 – Conclusion
If you only ever play your music on your PC, then it probably doesn't really matter what format it's in. Windows Media Player will play it along with a myriad of other media players that can be downloaded and installed. It's really not going to be a problem.
It's when you come to move your music tracks onto other devices that going to run into issues. MP3 is the most widely recognised audio format. Virtually any type of device that can play audio will play MP3. Which is what you want.
Simply transfer your audio files to your device and away you go. Trouble free. In that respect it's well worth taking the time and trouble to convert WMA to MP3.
More Guides From At Home Computer
Getting It Done, One Guide At A Time