If you've got any sort of music collection, even if it's just a few CDs, why not copy (or rip) them to your computer.
There's a couple of very good reasons for ripping your music collection onto your PC. First, it serves as a backup, in case you lose or damage your original CD. Second, you could burn a copy of the original and use that in your CD player. This way your original gets very little use & so should stay pristine. And finally, you can obviously listen to your music on your computer with just a couple of clicks.
How To Copy A CD To Your PC.
Copying your music CDs to your computer is generally called ripping. You rip the CD.
Although there are lots of programs out there that you could use to rip your CDs, we're going to use Windows Media Player. Media Player is fine for this job and it's already installed on most PC's.
Load the audio CD that you want to copy into the CD/DVD tray.
Ignore any pop-up messages that appear.
If the CD starts playing, just stop it by clicking the X in the top right corner.
---
Then start Windows Media Player by clicking the START button, then type –
media player.
When Windows Media Player appears at the top of the list, left-click it.
---
If this is the first time you've used Media Player, you may see the Welcome to Windows Media Player window.
Just click the RECOMMENDED settings button and then click FINISH.
---
Once Media Player has started up, look down the list in the left pane and click the name of your CD.
The contents (music tracks) will be shown in the right pane.
---
Windows Media Player Rip CD Settings.
On some computers, Windows Media Player will be set to rip audio CDs in a format called Windows Media Audio (WMA). We don't want that. We want all our ripped music to be in the MP3 format.
MP3 is a far more versatile file format. Which means you'll be able to play your music on most devices.
So it's well worth checking that Media Player is set to copy your music as MP3 before we start.
Click the RIP SETTINGS button, then click MORE OPTIONS on the menu that opens.
---
In the window that opens, check you're on the RIP MUSIC tab.
Then look at the FORMAT box.
If it's set to MP3, your good to go. If it's set to anything else, click the drop-down arrowhead, then click MP3.
You can also change the quality of the recording on this page.
When done, click the OK button.
About Quality
Better quality recordings will take up more space. But generally, I shift the slider all the way to the best quality.
---
Starting The Rip
You'll only have to check or change the rip settings this once. Windows Media Player will remember and use these settings from now on.
So now we're all set up, it's time to copy that CD.
To start copying your music, click the RIP CD button.
---
Add Copy Protection Option?
If this is the first time you've ripped a CD, you may see the Rip Options window.
Click the DO NOT ADD COPY PROTECTION TO YOUR MUSIC option and then click I UNDERSTAND THAT MUSIC COPIED etc.
Adding copy protection will severely limit what you can do with your music. You don't want it.
Finally, click the OK button.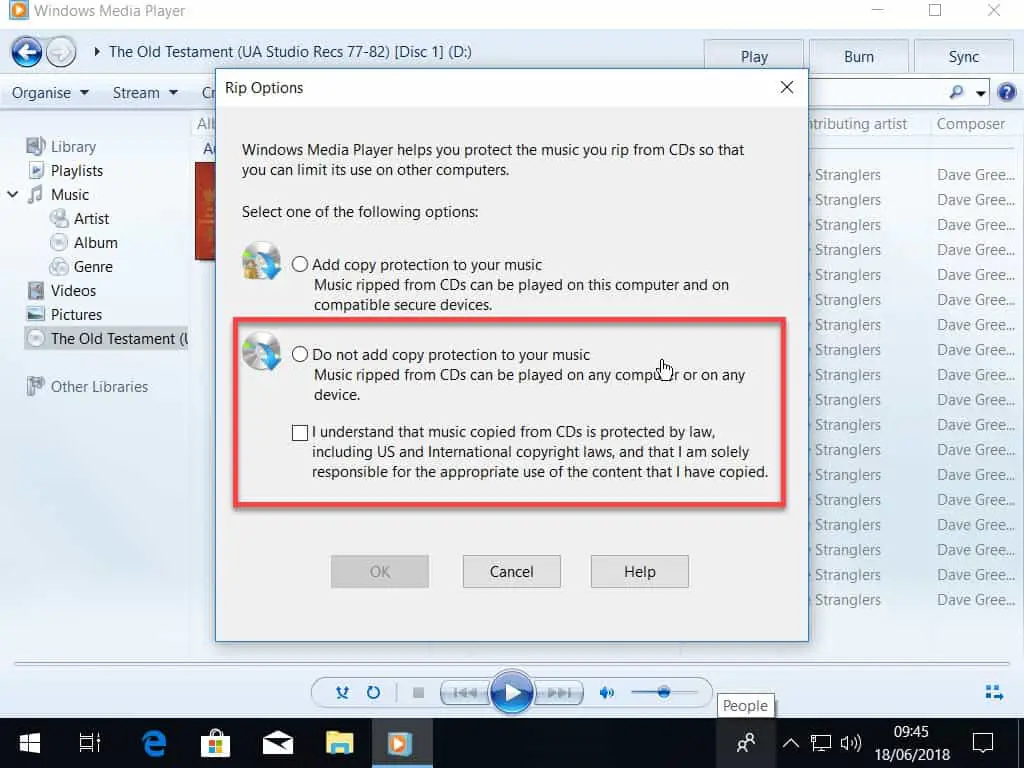 When seeing this notice, many people will mistakenly believe that they are protecting their music from damage or deletion or corruption or some such.
That's not the case. What this is actually going to do is to stop you from transferring your ripped music onto other devices.
If you've already got music files on your computer with this copy protection enabled, you can try removing it. Here is a guide to removing DRM from Windows Media Audio files.
---
Once the ripping process starts, you can see what's happening by checking the RIP STATUS column.
Pending – is waiting to be ripped.
Ripping – is being copied.
Ripped to library – it's been copied.
Windows Media Player will automatically create a new folder, inside your Music folder, to store your ripped CD.
---
Checking It Worked.
When all the tracks have been RIPPED, it's worth going to your Music folder and checking that the CD is there and that all the tracks are there (it wouldn't be the first time a computer has fibbed).
Change the CD and go again.
More Guides From At Home Computer
Getting It Done, One Guide At A Time