YouTube is not only a great place to find entertainment videos to while away the hours, but it's also a terrific resource of knowledge and information.
Along with the seemingly endless funny cat videos, you'll be able to find virtually any song or artist. And it's not just the latest and greatest, music and artists from all eras are here.
But you can also find all kinds of other types of video. How to fix that dripping tap, how to skydive, scuba dive, apply makeup, fitness, medical, sports, history, news and just about anything else you can think of.
Use Your Google Account To Sign In To YouTube.
With Youtube, you can just turn up on the Youtube homepage and start searching for whatever you're looking for.
So if you're looking for a guide to smartphones, or you just want to have a go at hanging a new door, simply type your search into the search box. That'll work.
But for this beginner's guide to using Youtube, we're going to look at how to get the most from Youtube, and for that, you'll need to be signed in.
To sign in to YouTube, you'll use your Google account details, E-Mail address, and password.
To find YouTube, you can either simply Google it, or from the Google home page, click the Google Apps icon (the 9 dots) in the top right corner of your browser.
A menu of all the Google apps and websites will appear.
Click YouTube.
---
Unlike many other sites, you can use YouTube without signing in or creating an account.
You simply type in a word or phrase into the search box and YouTube will do the rest.
---
But to get the most out of YouTube, it's better to sign in.
So if you're not already signed in, click the sign-in button, then enter your Google account details.
---
YouTube Restricted Mode.
One of the first things to do, once you've signed into YouTube, is to decide whether you want to filter the videos for adult content or not.
This is obviously dependant on who has access to your PC and YouTube account.
To check and set the Restricted Mode, click on the account button in the top right of the window.
Be sure you're clicking the account button for Youtube, and not the Google account settings button. They often look similar.
On the drop-down menu, you'll see the RESTRICTED MODE setting right at the bottom. You may have to scroll down.
On my account, it's set to OFF.
---
If you want to change this setting, click RESTRICTED MODE on the menu.
You can now toggle RESTRICTED MODE on or off as you see fit.
At this point, it may be worth pointing out that with RESTRICTED MODE turned ON, Youtube will try to filter out videos that contain adult content.
You should be aware that no such filter is 100% accurate. Meaning that if you've got kids around, you shouldn't rely on it. And, as a side note, many kids will probably know how to turn it off anyway.
---
Using YouTube.
So now we're signed in and we've set Restricted Mode either on or off, it's time to delve a little deeper and take a look at some of the features available to us.
---
Subscribing To A Channel.
Subscribing to YouTube channels is a great way to keep track of your favourite YouTube contributors.
To Subscribe to a particular channel, simply click the Subscribe button that appears just below the video you're currently watching.
When you Subscribe, that channel will be added to your Subscription list.
---
You can access your Subscription list at any time by clicking the 3 horizontal lines in the top left corner of the screen.
A side menu will open.
Your subscriptions appear near the bottom of the menu. You may have to scroll down a little to find it.
To see what other videos the channel has released, simply click the channel's name in your subscription list.
---
You can also see what other videos a channel has to offer, by clicking the channel's name underneath the video.
You don't have to be subscribed to the channel to do this.
---
Video Options Menu.
When you hover your pointer over a video, you'll see 3 vertical dots appear. This is the video options menu.
The menu has 5 options. Each option is specific to that particular video.
---
Add To Queue.
You can easily watch a video, then search for another video, or simply choose one from the suggestions.
Or you can add videos to a queued list. Doing this will have the videos play one after the other.
They play in the order that they're added to the queue.
Queueing videos like this works particularly well with music videos so you get one song playing right after another.
To create a list of videos to play, move your pointer onto the video and you'll see 3 vertical dots appear next to the title.
---
Click the 3 vertical dots, then on the menu that opens, click ADD TO QUEUE.
---
When you add the first video to the queue, YouTube will open a small player window in the bottom right corner of the screen.
Continue adding videos to your queue, just ignore the player for now.
---
Once you've added all the videos you want, you can click the play button to watch in the small player window.
---
Or click the Expand button to bring the player up to its normal position on the screen and then click play.
The videos will play through in the order that they were added to the queue.
---
Watch Later.
As well as creating a queue of videos to watch right now, you can also create a list of videos to watch at a later time/date.
This can be handy when you spot a video you fancy seeing, but not right now.
Click the 3 vertical dots to open the video options menu, then click SAVE TO WATCH LATER.
The video will be added to the list of saved videos.
---
When your ready to see any of the videos you've saved to the watch later list, click the 3 horizontal lines in the top left corner of the YouTube window.
On the menu that opens, click WATCH LATER.
---
The window that opens will show you all the videos that you've added to Watch Later.
You can watch any of them by simply clicking on the one you want.
Or you can add them to a queue so that they'll play one after the other, just like we did above.
Move your pointer onto a video and the 3 vertical dots appear again.
Click the dots, and then click ADD TO QUEUE.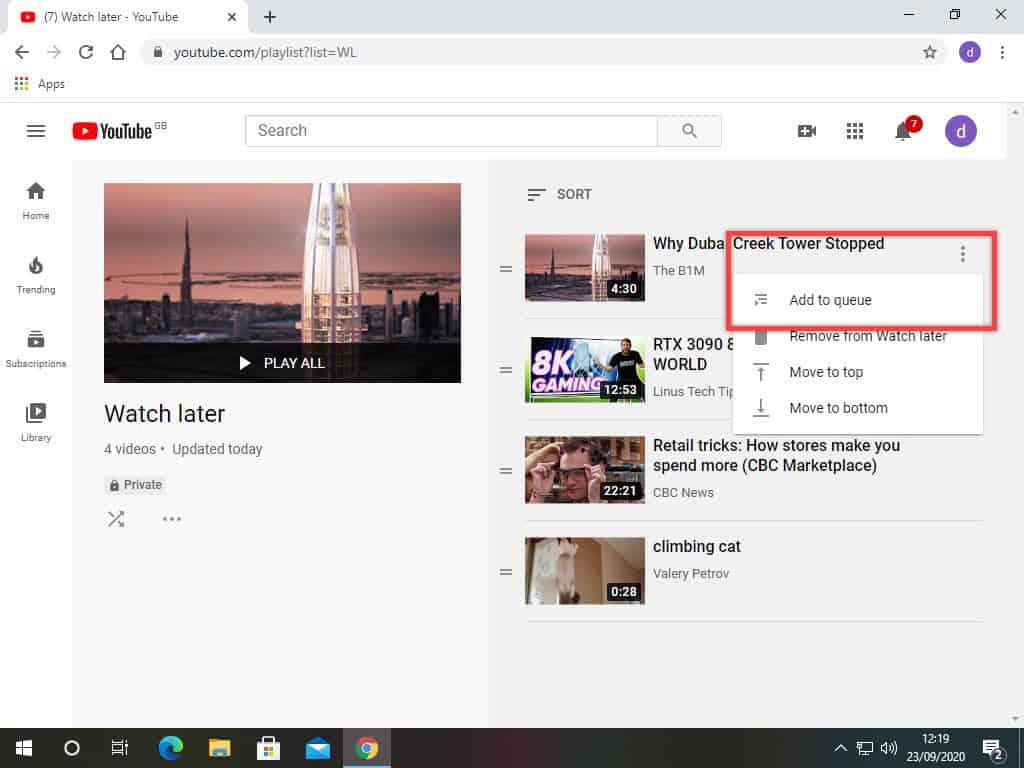 ---
Not Interested, Don't Recommend Channel & Report.
The next 3 entries in the video options menu are pretty much exactly what you think they are.
Not Interested – Tells YouTube you don't want to watch that particular video.
Don't Recommend Channel – Tells YouTube not to suggest any videos from that particular channel.
Report – The final entry is Report. If a video is reported then it will be reviewed by YouTube staff.
However there are many more videos reported, than there are staff, which results in long queues of videos waiting to be reviewed. So although YouTube guarantees that all reported videos will be reviewed, they don't give any sort of time table.
The option to report offensive videos is an important tool in helping to keep YouTube clean and clear for all users.
---
How To Share A YouTube Video.
Occasionally you'll stumble across a truly great video on YouTube. Something that is so funny, so informative, so interesting, so just right, that you'll want to show it to someone else.
YouTube makes it easy to share videos with other people.
To share a YouTube video with someone else, on the video page, scroll down a little and you'll see the SHARE button.
---
Click the Share button and a small window will appear.
Across the top of the video, you'll see many of the most popular social media websites.
Clicking any of these will take you that particular site where you'll log in to your account and the video will be there, ready for you to post in the regular way.
---
Alternatively, if you'd like to send a link to the video to someone, maybe in an E-Mail, you can.
Just below the social media icons, you'll see the YouTube address for the video.
Click the word COPY, to copy the address to your clipboard.
---
Now log in to your E-mail account and start a new E-mail.
When you want to add the link for the Youtube video, press CTRL + V on your keyboard to paste the link.
When your recipient receives the E-mail, all they need to do to watch the video is to click the link.
---
Watch History.
YouTube keeps track of all the videos that you watch. That helps it to build a profile of the types of videos that you like. That way, when you return to YouTube, it's got something to offer you. It's also handy for those times when you'd like to watch a video again.
On the flip side, it can be a bit of a nuisance. Let's say I want to build a small garden wall. I watch a couple of bricklaying videos on YouTube, then sally forth and build my wall.
Once the wall is built, I don't really want any more bricklaying videos showing up as suggestions, I'm done with that. But YouTube will continue to add them because I've previously watched that type of video.
To see your watch history, click the 3 horizontal lines in the top left corner.
Then on the menu that opens, click History.
---
The page that opens will show you all the videos you've watched, organised by the date you watched them.
---
You can remove individual videos from your history.
Move your pointer over the video you want to remove.
You'll see an X appear next to the video's title. Click the X and the video is gone.
YouTube will now "forget" that you ever watched that particular video. Which has the effect of stopping that type of video showing up in your suggestions.
---
If you want to clear your entire watch history from your YouTube account, you can click CLEAR ALL WATCH HISTORY.
You'll see a confirmation window appear.
---
On the confirmation window, click CLEAR WATCH HISTORY again and YouTube will delete all the videos in your history file.
Clearing your entire watch history has the effect of "resetting" YouTube. So the next time you go onto the YouTube website, it doesn't have a lot to go on as far as suggesting videos you might like.
---
Using YouTube Summary.
So there we have our beginners guide to using YouTube.
The next time you find yourself flicking TV channels and finding nothing of interest, why not fire up your PC and pop on over to YouTube and see what you can find.
More Guides From At Home Computer
Getting It Done, One Guide At A Time