How to scan your computer with Avast. The free version of Avast One antivirus has several ways of scanning your computer for viruses and malware, and in this guide, we're going to look at the different options that you have.
Smart Scan and Deep Scan – smart is the quick scan whilst the deep scan can take a long time.
On Demand Scan – when you think you may have been infected, and you want to scan immediately.
File or Folder Scan – only check a particular file or folder.
Boot Time Scan – scans your computer before Windows starts up.
How To Scan Your Computer With Avast.
If your computer's behaving strangely, or you think you may have been infected with some kind of malware, you can initiate a manual virus scan (on-demand scan) at any time.
To start a virus scan of your system, open Avast One either by double left clicking on the Desktop icon or from the hidden icons area of your Taskbar.
---
If you haven't created an account with Avast (or for some reason you're signed out), you'll most likely be greeted with a page similar to this.
Obviously, you could create your account if you so wished, but I'd suggest you skip that for now.
Click EXPLORE, which is on the left-hand options panel.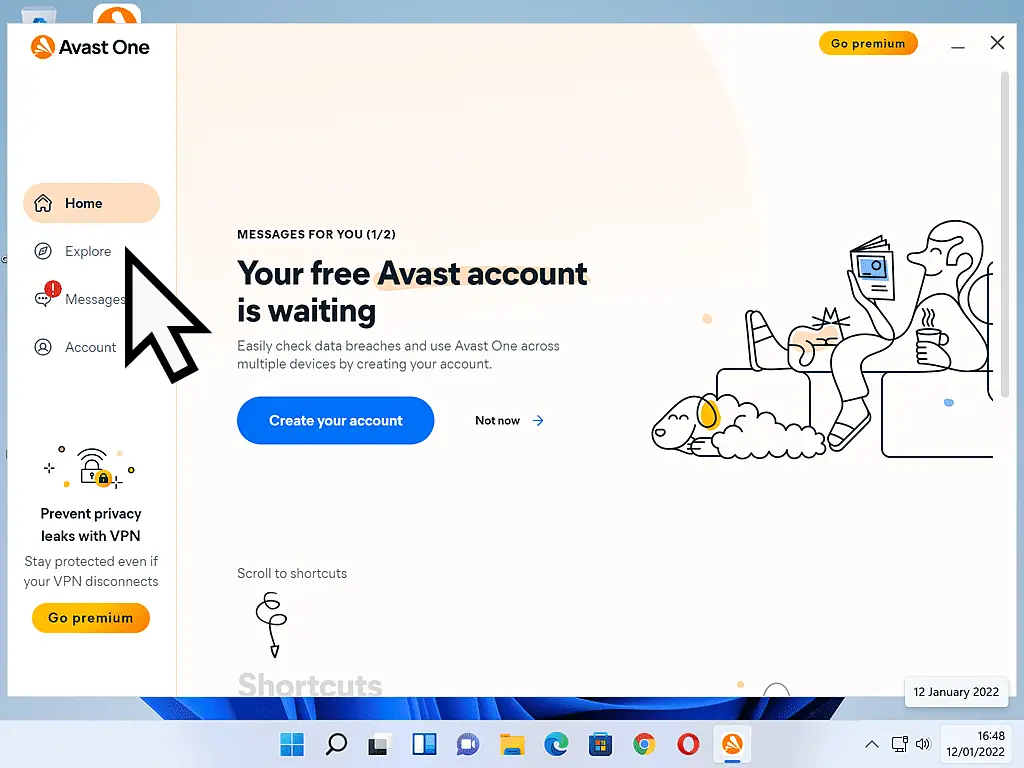 ---
To Run A Smart Scan.
In Avast One, the quickest way to check your computer is to use Smart Scan.
Click the RUN SMART SCAN button.
Avast will check your computer for any running virus or malware. It'll also check for "dodgy" browser add-ons amongst other things.
If you think your computer may be infected with something, then this is your first port of call.
Avast will then run through its Smart Scan routine. It shouldn't take long, maybe 5 minutes or so (maybe less). It all depends on your particular computer and how you've got it set up.
---
To Run A Deep Scan.
If you were simply doing a routine virus scan of your computer, then usually the Smart Scan would be enough. However, if you're suspicious or have reason to believe that your machine may be infected, then the next step is to run what Avast call a "Deep Scan".
The Deep Scan is a full virus and malware check of your system and as such can take quite a long time (it all depends on your computer).
To start a Deep Scan of your computer, from the Avast One home page, click the EXPLORER button again.
Then click on the OPEN SCAN CENTRE button.
---
In the Avast Scan Centre, click the DEEP SCAN button.
Avast will then begin a complete check of your computer.
As I said earlier, this may take some time and that can be a problem.
Often, computers will "go to sleep" before the deep scan has finished. When that happens, the scan is paused, or put on hold, until the machine is "woken up again". See below for more information.
---
How To Scan Files And Folders In Avast.
As with most antivirus programs, Avast allows you to scan individual files and folders rather than having to run a full scan. This is handy if you've you've just downloaded a file or folder from the Internet and you'd like to have it checked before you open it.
The way in which you'd start a file/folder scan is slightly different depending on whether you're using Windows 10 or Windows 11 on your computer.
Windows 10
Windows 11.
---
When the full options menu opens, left-click SCAN SELECTED ITEMS FOR VIRUSES.
Please note that, as with any other antivirus product, this doesn't guarantee that the file or folder is totally safe. You still have to be on your guard when downloading from the 'net.
Avast Boot Time Scan.
Avast One can scan your computer for viruses and malware before Windows even starts up. This can be helpful in that it allows Avast to check files and folders that would normally be inaccessible when Windows is running.
To initiate a Boot Time virus scan of your computer, open Avast and then click the EXPLORE button. Next, click the OPEN SCAN CENTRE button.
On the Scan Centre page, click the BOOT TIME SCAN button.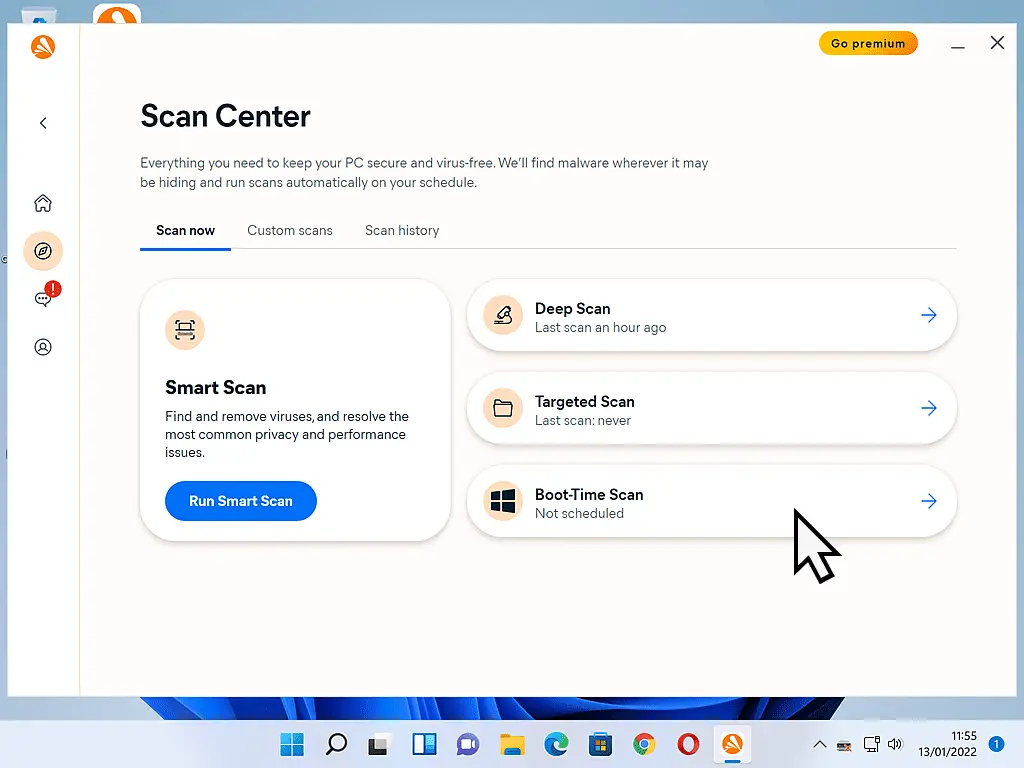 ---
Because the Boot-Time Scan will run outside of the normal Windows environment, Avast requires a new set of virus definitions.
Click the DOWNLOAD button to "Get specialised antivirus definitions".
The required files will be downloaded and installed onto your computer.
---
Wait for the specialised files to be installed. Once they are, schedule the Boot-Time Scan by clicking the on/off switch beside "Run next time you restart your PC".
A green tick means it's turned on.
Then click the CLOSE button and restart your computer.
---
As your computer restarts, but before Windows loads, the Avast Boot Time scan will begin.
There's not much for you to do, just leave it to complete.
Boot Time scans can take a long time depending on your computer, so if you're using a laptop, be sure you've got it plugged in.
If you do need to interrupt the scan before it's finished, press the Escape (Esc) key on your keyboard.
When the scan's finished, your computer will restart as it normally would.
---
Avast Deep Scan Takes Forever.
Deep scans can sometimes seem that they'll never actually finish. Every time you return to the computer it doesn't seem to have progressed that much.
This is usually caused by the computer going into "sleep mode". Modern computers are by default, set to go to sleep (low power mode) whenever they aren't being used. Sometimes that can have the effect of pausing the virus scan.
This behaviour usually only affects the Deep Scan, Smart scans will generally be complete before the computer enters sleep and Boot Time scans will be unaffected because they operate outside of the Windows environment.
---
Stop Your PC Going To Sleep During A Virus Scan.
Changing the power options on your computer is pretty much the same in both Windows 10 and Windows 11. Click the Start button and then type edit power plan. Click Edit Power Plan (Control Panel), which will appear at the top of the list.
Windows 10.
Windows 11.
---
On the power plan settings page, click the drop-down arrowhead beside "Put the computer to sleep".
On the menu that opens, click NEVER.
When the antivirus scan has been completed, you can come back here and change the sleep timer to another setting, but for now, select Never.
Click the SAVE CHANGES button and then close the window using the X in the top right corner.
---
Summary.
Avast One free anti virus does a pretty good job of keeping your computer clear of infection, but there are always those times when something out of the ordinary happens and you'd like to do an antivirus scan right away. Use the scans in the order of
Smart scan
Deep scan
Boot Time scan.
If you're still not sure or would simply like a second opinion, then try using Malwarebytes How To Scan Your Computer With Malwarebytes. It can often pick up what other antivirus programs miss.
More Guides From At Home Computer
Getting It Done, One Guide At A Time