You can delete any Windows user account from your computer that you're not using. Deleting an account will remove all that particular person's settings and files. It'll be as if the account never existed.
4 Rules Of Deleting A Windows User Account.
There are 4 things to note about deleting a Windows user account.
You can't delete the account you're signed in with. You have to be logged in with an account other than the one you're trying to delete. So if you wanted to delete your own windows account, you'd have to create a new account first, then log in with that account, and then delete your old account.
A Standard user can't delete any accounts at all. You have to be signed in to your computer with an Administrator account.
Back up any data (files and folders) from the account before you delete it. Once the account is deleted, all the data associated with that account will be deleted too.
You can't delete an account that has been hidden. When a Windows user account is hidden, then it's not viewable, you can't see it, so you can't select it for removal.
Standard & Administrator Accounts.
We discussed the differences between Standard and Administrator accounts here Windows User Accounts.
In short, a Standard user account is a type of limited Windows user account. It's limited by virtue of the fact that anyone signed in with a Standard account is not allowed to make system-wide changes to the computer.
---
Back-Up The Account Data Before Deletion.
Deleting someone's account from your computer will remove all traces of that account from your computer. All that person's pictures, documents, music, videos etc. It'll all disappear into the void. So before you go ahead and delete the account, it's worth backing up the data associated with it.
You can obviously skip this step if you know for certain that there isn't anything in the account that you'll need later. Personally, I'd do it anyway because you just never know.
If you have access to the account you can log in and then simply copy any files you need to a USB stick or external hard drive etc.
If you can't gain access to the account that you're going to delete (maybe because you don't have the password to hand), then you can still back up the account's files like this.
Open File Explorer by clicking the yellow folder icon on the Taskbar or by pressing the Windows key and the letter E on your keyboard.
---
Open the system drive by double left-clicking on it.
The system drive is usually the C: drive.
If you can't see the C: drive, then left-click once on THIS PC in the left-hand panel.
---
To Backup All Of The Data In The Account.
If you're not sure of exactly what files and folders you might need then it's probably best to save everything associated with the user account you're going to delete
To back up all the data (files and folders) in the account, simply Copy and Paste the folder to a suitable location.
Inside the C: drive, double left on the Users folder to open it.
Inside the USERS folder, you should see a list of folders for all the Windows User Accounts on your computer.
Find the user account folder that you want to delete and Copy and Paste it to a safe location.
In the example below, I'm going to delete the user account named John Doe. So that's the folder I need to backup. I'll Copy and Paste the John Doe folder to my Desktop, but you could Paste it to any suitable folder on your PC, or to a USB stick or external hard drive.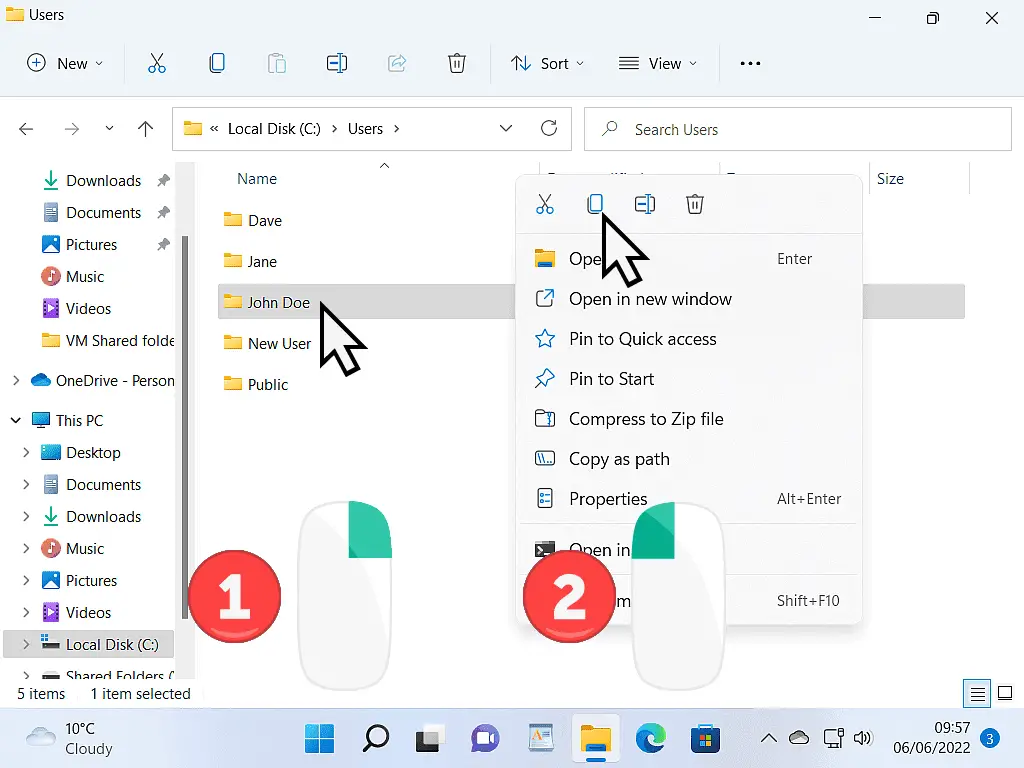 ---
After you click Paste, you'll most likely see a "Folder Access Denied" pop up message appear.
That happens because the files and folder don't belong to your account, they belong to the account you're going to delete.
Click the CONTINUE button.
---
After you click the Continue button, you'll see a progress bar detailing the percentage copied so far etc.
How long it will take will depend on the speed of your computer and just how much data is in the account. So give the machine time to complete the task.
---
There will almost certainly be some system files that can't be saved.
Windows will open a warning box that will detail which files can't be saved.
You can review each file in turn or simply skip the whole lot in one go.
Click into the box "Do this for all current items" and then click the SKIP button.
---
When Windows has finished copying all the data, you'll see a folder with the account holder's name.
Inside that folder will be all the files and folders associated with that account.
Now you're ready to delete the account from your computer.
---
Deleting A User Account From Your Computer.
Now you've got a backup of the all that persons files and folders, you should be safe to go ahead and delete the account.
In both Windows 10 and Windows 11, left-click the Start button and then type
accounts
Left-click ADD, EDIT OR REMOVE OTHER USERS (system settings)
---
That will open the "Family and other users" page. Scroll down to the Other Users section. Left-click once on the user account that you want to delete. Then left-click the REMOVE button.
---
Delete Account And Data?
In both Windows 10 and Windows 11, the "Delete account and data" windows will open. It's just telling you what will be deleted and that you should back up the account's data.
If you click the CANCEL button, the account won't be deleted and nothing will be lost.
If you're sure and you've saved everything from the account that you need, then click the DELETE ACCOUNT AND DATA button.
---
That's all there is to it. The deleted account will disappear from the Other Users section.
You won't see the account on the Windows login screen either.
It has gone for good.
---
Summary
Deleting a user account from your computer isn't something that you're likely to want to do every day, but it is something that one day you may want to do or need to do.
Sometimes you'll find that you can actually fix your computer simply by creating a new account for yourself and then deleting your original account. I've done that on more than one occasion on clients' computers and it saves all the hassle of reinstalling Windows from scratch.